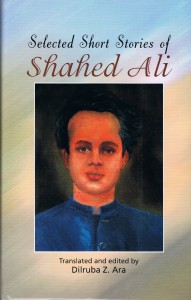 Selected Short Stories of Shahed Ali
This unique and diverse collection of short stories by eminent Bengali author Shahed Ali (1922—2001) gives the reader a look into daily life in Bangladesh and its people. It exposes one to the beliefs and customs of the Bengali culture. It explores society from the upper crust to the poor and unfortunate, sharing a wonderful insight into the makings of each and every individual we meet through these stories. Ali's ability to perceive, capture and pass on the subtleties of each and every character, their emotional actions, reactions and reasoning, is well ahead of its time. Although many of these stories were written years ago, their message is still relevant and applicable.
SHAHED ALI'S WORKS AND ACHIEVEMENTS (1922-2001)
Shahed Ali started on his literary activities even before the Separation in 1947. His first story Asru (Tears) was published in 1940 in the renowned newspaperSawgat. He was then a pupil of grade eight.
From 1944 to 46 he worked as the editor of the monthly magazine Pravati. Then he became involved in language movement and in the newspaper Saynik, which served as the banner for language movement. In 1948 he became the editor of Saynak and worked as such until 1950. In those days he taught for free at Bangla College out of his conviction. He also worked as the editor of Buniad for a while. Afterwards he was the editor of Sabuj Pata and Islamic Academy Patrika, two journals of the Islamic Foundation, for several years. He was also actively involved with Allama Iqbal Sangsad Magazine from 1963 to 82.
Apart from a random number of stories, poems and essays published in different newspapers, and his one novel: Ridai Nadi: A heart like a river, he has to his credit six collections of short stories: Gibraeler Dana (Gabriel's Wings), Eki Samatale (On the Same Plane), Atit Rater Kahini (Tale of a lost night), Amar Kahini (Ageless story), Shah Nazar : (ABridegroom's Vision) and Natun Zamindar ( New landlord).
Shahed Ali also wrote Tawhid (Faith) and Bangla Sahitye Chattagramer Abadan (The Literary Contribution of Chittagong), Russian impact in Palestine, Samradjjahbad and Russia (Imperialism and Russia), Religion and Colonialism, Duty of the young Muslim Youngsters, Call of Freedom and the Cause of Disaster.
Translation Works: Herodotus, Road to Mecca, Fundamental of Economics, History of Political Theory, Islam in Bangladesh, Economic order of Islam. Modern Science and Modern People's History.
A Collection of Essays: Buddhir Fasal Attar Asis.
Unpublished Work:a collection of poems, written at the age of fifteen.
A number of his works have been translated into foreign languages. Some have been filmed and some dramatized for telecast
On his sick bed he dictated the translation of the Ancient life of the Roman, which is going to be published by Bangla Academy shortly.
In 2000, he was acclaimed nationally for his literary achievements and contribution to the language movement at Dhaka Press club.
Film: Burning Wings (Feature Film 2007) Based on Shahed Ali's Famous Short Story
Gabriel's Wings [1953] Directed by Asif Iqbal Khan Script & Dial …
Awards: 1964: the Bangla Academy Award for his short stories. He received Ekushe padak 1989, Bangla i Imtiaz award 1969, Language movement award 1981, Nasiruddin Gold medal 1985, Islamic Foundatin award 1986, Jalallabad Club award 1988, Jallabad Club forum February 21 and independence award 1990, Bangladesh National Student award (England) 1991, Bangladesh Islamic School (Dubai) literature award 1992. Poet Forrukah Memorial award 1997, Ragib Rabeya Shitta award 1998.
1. Posthumous Award: Kisar Kantha literature award 2003.